Funny 70th Birthday Cartoon & Card For Men
Hope the world is treating you well. Thought today would be a good chance to show how and why a drawn cartoon sometimes has to change a bit to become a card that you (or anyone else) can customise. (The cartoon turned into funny 70th birthday card is shown below).
All cartoons need a background when they become a card, and a fiery orange-yellow one seemed
appropriate for this one. Changing the font wasn't so much of a choice: Zazzle (
where the card is now on sale)
only provides a very few "comedic," fonts.
Also, I made it specific to a person and an age. Of course, these can be easily changed. But it's a strange thing. Cards that mention a specific name and age seem to do better than those that don't, even if the people buying them then customise and change those details completely.
I don't really understand why this should be so...If you do, please let me know in the comments. But all that matters is that people are enjoying them: a huge thank you to everyone who has bought cards so far.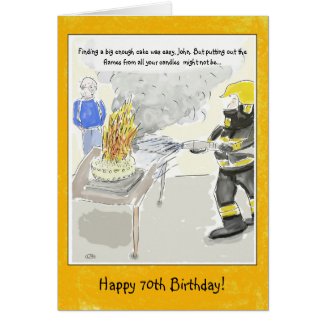 Funny 70th Birthday Card For Men: Candles...
by
CartoonsbyClare

And in any event, thanks also for dropping by.